So your fed up with TBI? Let me help ya with getting a carb on your truck.
A carb swap is alot more simple then people make it, you DON'T need to change your fuel pump, you DON'T have to remove the whole wiring harness (In fact i keep it so i can use the factory gauges), you DON'T have to use the TBI Distributor
*I AM NOT RESPONSIBLE FOR YOU ****ING UP YOUR TRUCK, OR NOT BEING ABLE TO PASS EMISSIONS!*
THIS WILL THROW YOUR CEL LIGHT!!! UNLESS YOU GET EVERYTHING TUNED OUT
AGAIN, DO NOT ATTEMPT IF YOU HAVE EMISSIONS!!!
What you'll need:
-Mechanical Knowledge (You will be cracking open your engine)
-Misc. Tools
-Misc wiring and SOLDERING skills
-Carb
-Carb Intake
-HEI Distributor
-Holley 12-803BP ByPass Regulator (
http://www.summitracing.com/parts/HLY-12-803BP/
)
Intake:
1. First off, you will want to remove your TBI Wiring Harness (leave harness to the side!), Distributor and intake
2. Install your carb intake
3. Install HEI Distributor
4. Install Carb
5. Take CTS off old intake, install on new one!
6. Install Plug Wires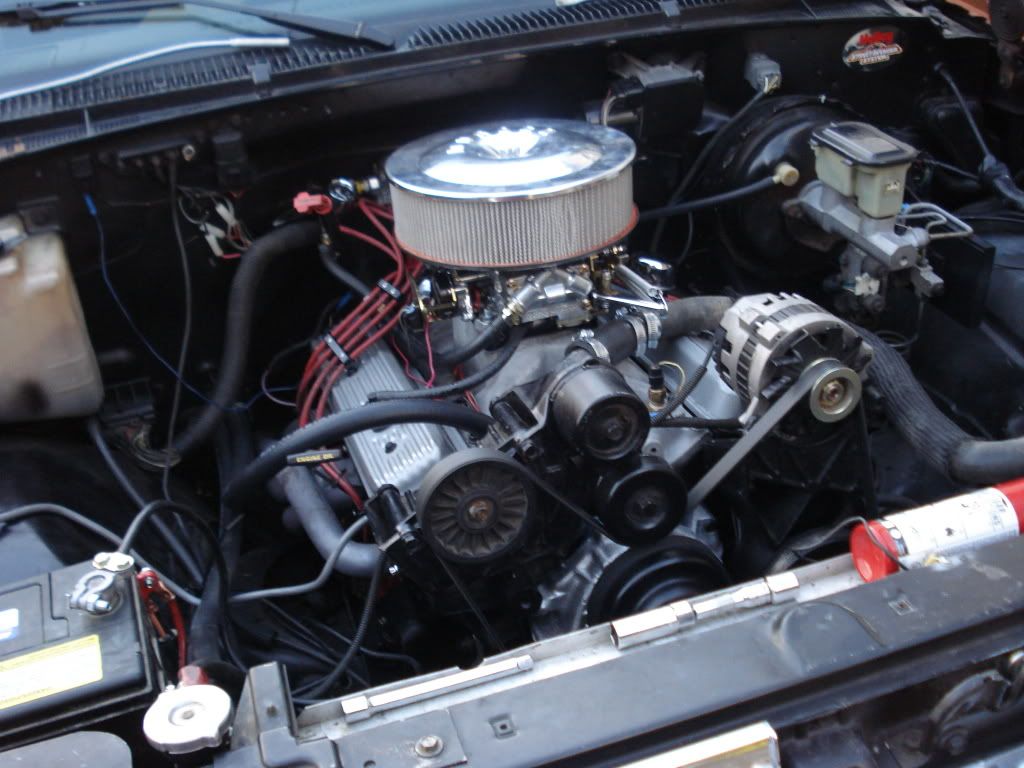 Wiring:
Wiring is pretty simple, take your stock harness, bolt the grounds back down (I used one of the intake bolts and bolted the ground right to the intake!), plug in your CTS and Oil Pressure Sender on back of engine, take the PINK wire from the stock TBI Coil plug, cut off plug and run wire to BATT side of HEI, tach wise, im not 100% sure, i have aftermarket tach so i just hooked that to TACH side of HEI.
The rest of the un used plugs, you can either A) try to hide in wire loom or B) cut plugs off and make sure wire ends are protected and hidden
Fuel:
I Set up my fuel system different then alot of people, Here is what i used.
-Stock TBI In-tank Pump
-Holley 12-803BP ByPass Regulator (
http://www.summitracing.com/parts/HLY-12-803BP/
)
-Marshall 0-15PSI Gauge, (Not shown)
It is VERY Important that if you are keeping the stock pump, you HAVE to have a return, i dont care what anyone else says, just capping off the return is gonna kill the pump, THE RETURN IS THERE TO COOL THE PUMP!.
Picture of my setup.
Those are the stock TBI Fuel Lines, i just bent them a bit and cut off the fittings and installed some new ones.
I then ran a hose barb out the left side to the carb, shown here.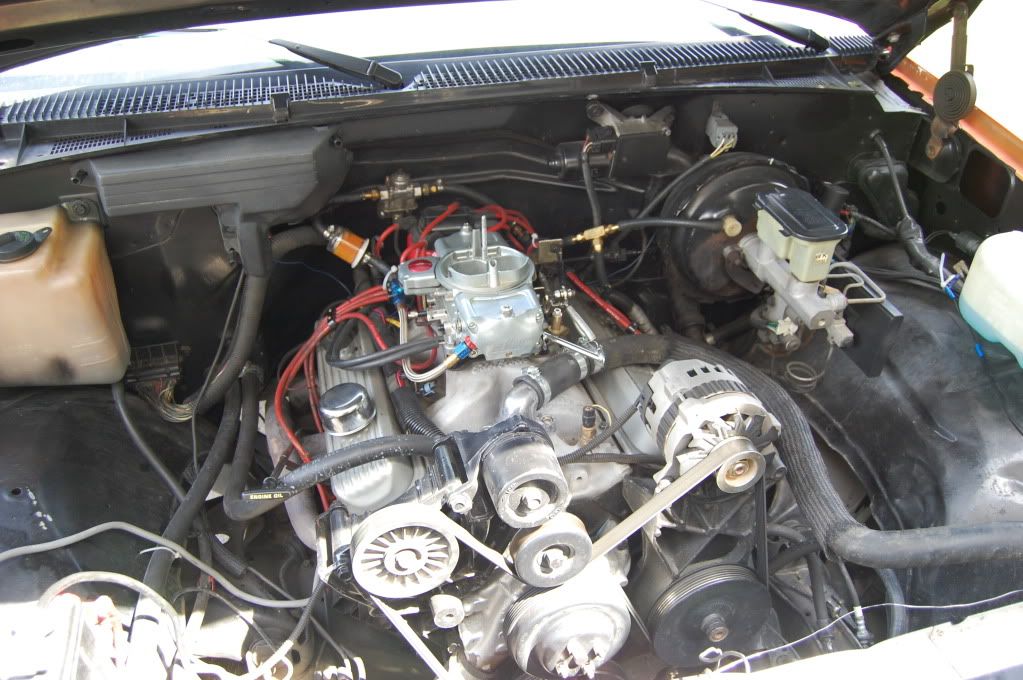 it ran great, but i still wanted to check my PSI, so i added a gauge. using some fittings we had laying around, Seen in this pic: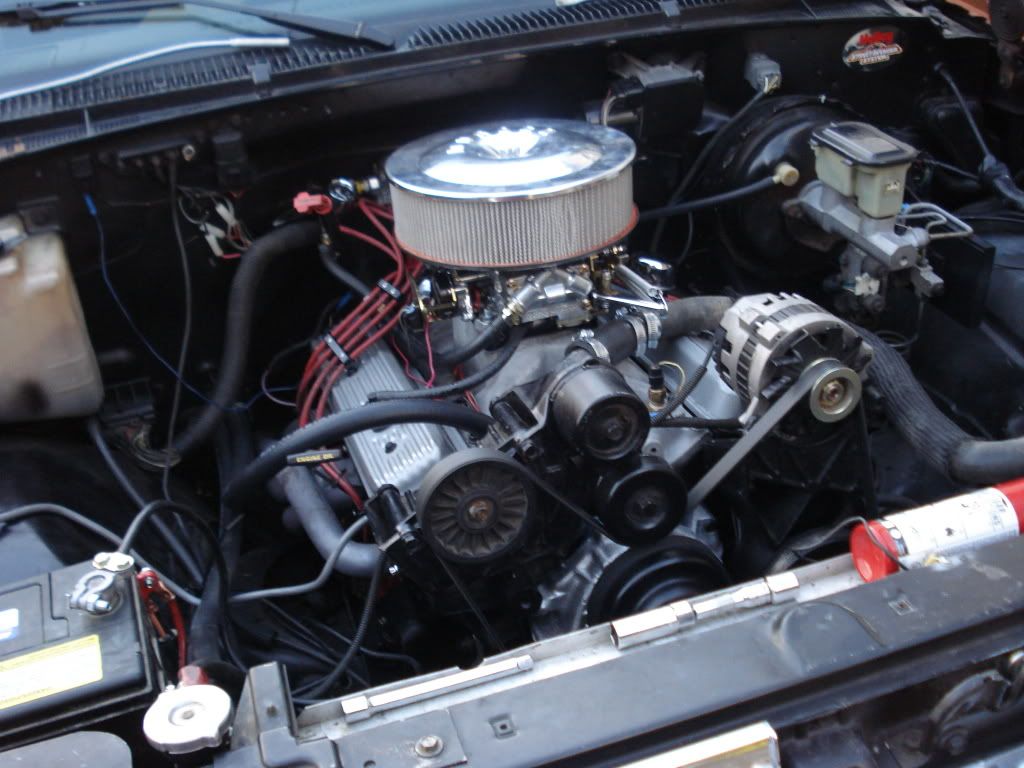 I found that my demon likes 6.5-7PSI. and the Holley Regulator is factory set at 5PSI.
Transmission Control Via TBI PCM:
First off, Here is what the PCM needs to operate the 4L60E
-VSS
-CTS
-TPS
-A RPM Signal
Now i did the exact same thing 04SilveradoMykk did in his thread with his Vortec PCM, But my truck was stuck in limp home mode.
Mykk's Thread->
http://www.gmfullsize.com/forum/showthread.php?t=145089
I am running a Stock GM HEI distributor, and it is what i would recommend for a similar swap, I WOULD NOT keep the TBI Distributor, you have no clue as to what the PCM is gonna do without seeing fuel.
Now with a TBI engine, there is no crank sensor telling the PCM if its running.
It took me about a week to figure out what to do, but when i did its easy as 123.
1.Find the plug that used to plug into the TBI Distributor and lead to the PCM.
2.Find the Purple/White wire
3. Take Wire and run it into the TACH position on your HEI Distributor.
4. Done!
Picture of wire with a quick disconnect.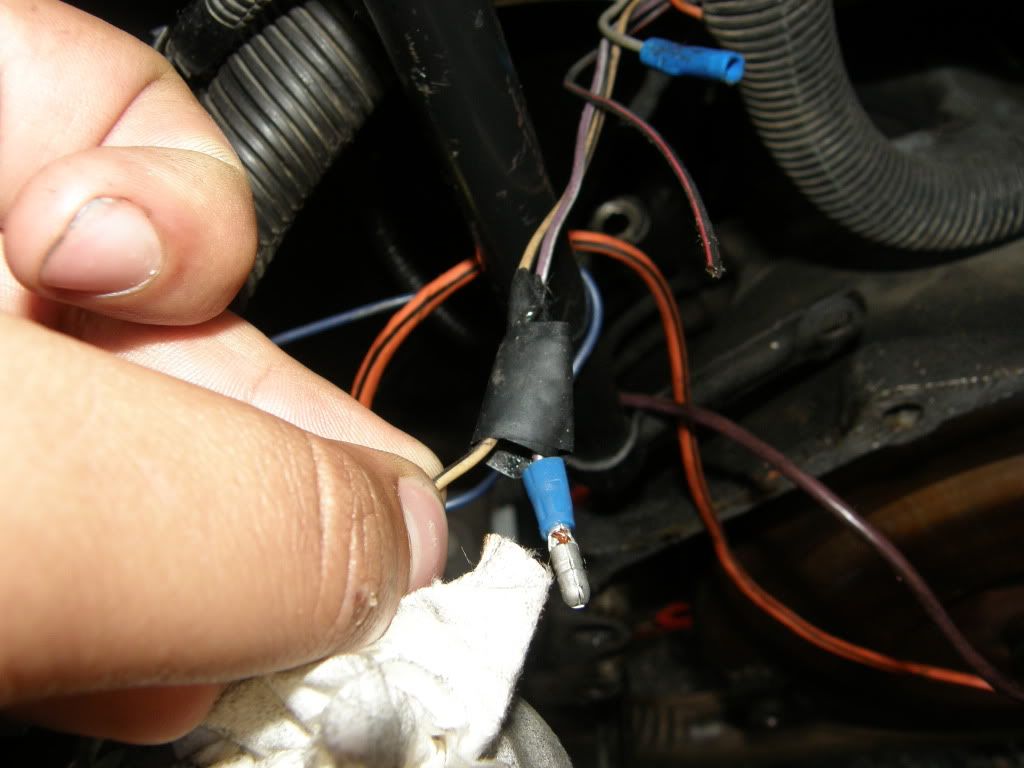 Here is a Picture of my TPS on my Speed Demon 650CFM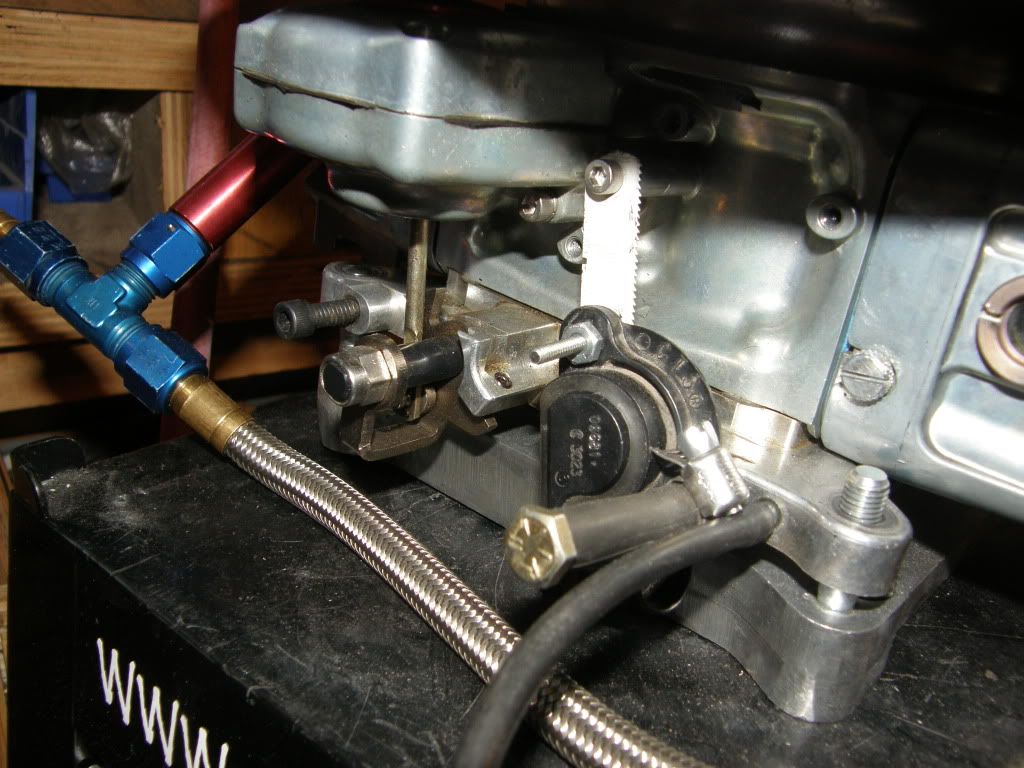 Picture of Holley TPS Kit on a Holley 670CFM Street Avenger, Far better way to go.
Picture of whole setup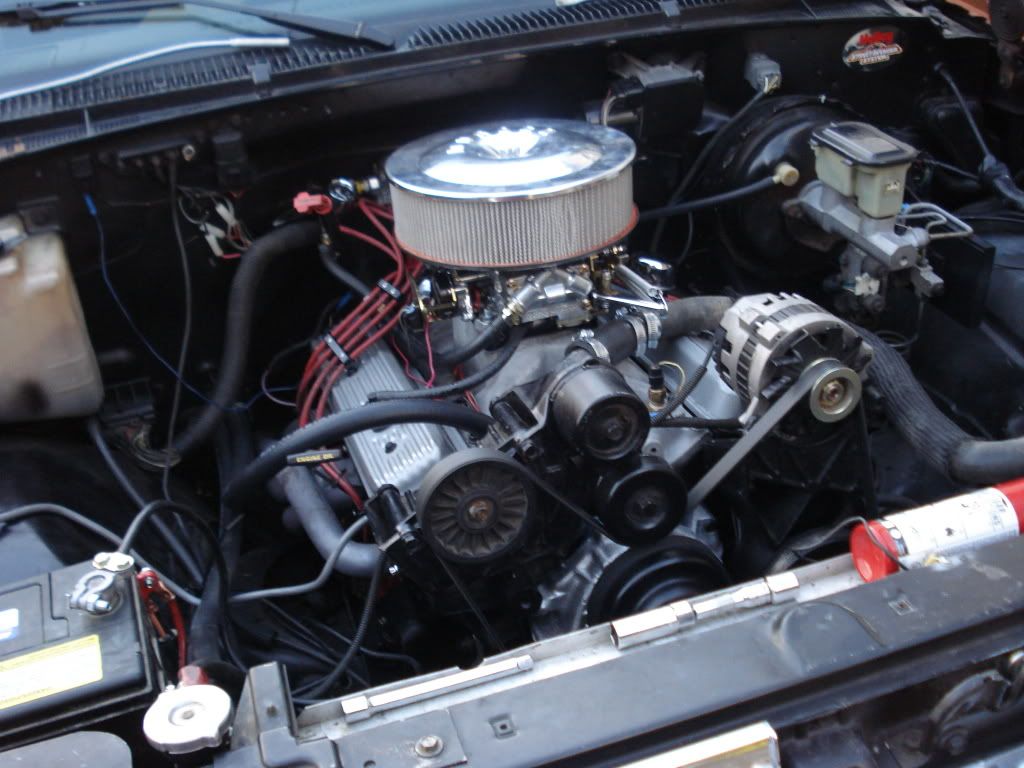 Here is a Video of me leaving my driveway, as you can see my tranny is functioning proper (I still manual shift it) if the purple/white wire wasn't hooked up, i wouldn't get 1st or OD.
http://s668.photobucket.com/albums/v...t=MOV01285.mp4
as you can see in the video, my Speedo, Coolant temp and all other gauges work like factory (My Oil PSI gauge isn't working cause my Oil Sender is gone, Replaced with an Autometer unit)
Before:
After: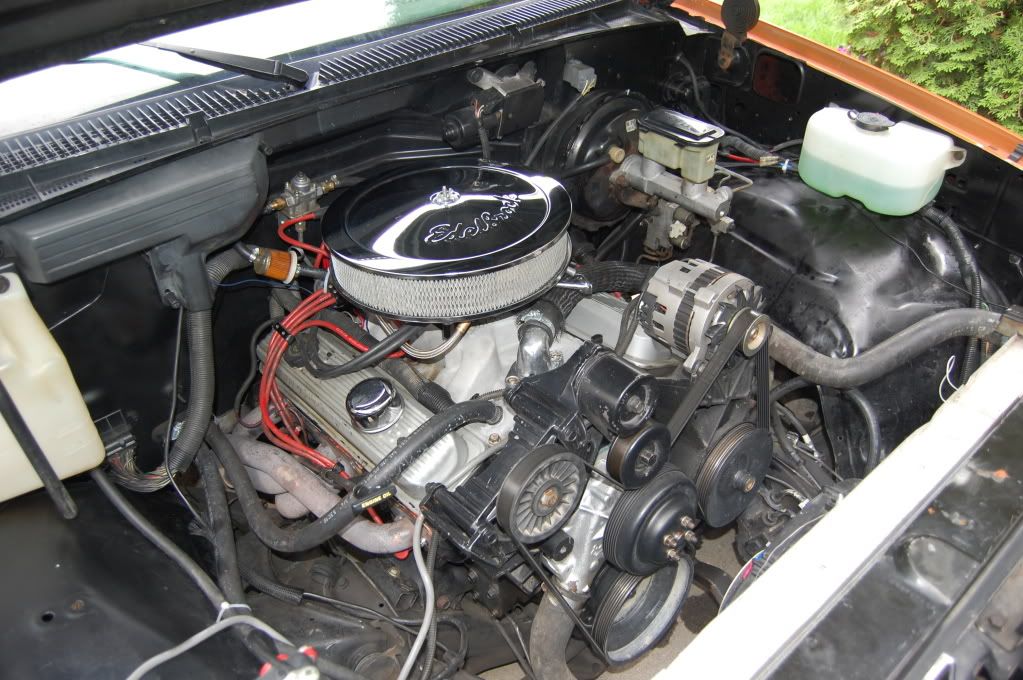 Any Questions?